Late summer, lots of sunshine and warm, days. August is the perfect time to sow and plant crops. Here are some tips on what to grow and how to grow it!
Summer is the perfect time to sow seeds of some vegetables and flowering plants. Here's a quick guide on how to sow, plant, and grow plants sown in August.
To begin with, a key point: remember, to water regularly. When it gets very hot and dry, water your crops more often, as seedlings and young plants will be very sensitive to water shortages. And now back to the topic: which seeds can be sown during the summer?
Follow this link to get more info.
Nutritious spinach
The first vegetable is baby spinach. It is an easy-to-grow and frost-resistant plant. If you sow the seeds in August, you will harvest your first crop just a month later. You can also repeat sowing every 3 or 4 weeks until late autumn. When the weather gets colder, your spinach will go dormant for the winter to let in fresh green leaves in the spring.
Here are step-by-step instructions:
Sow the seeds in shallow pots or boxes.
Cover with soil and water well.
Spinach has few requirements, but it grows best in fertile soil in a well-sunny spot. Seeds, on the other hand, should be sown in well-aerated soil to germinate.

Arugula
You can't fake its slightly peppery flavor! Arugula is undeniably the queen of summer salads. Its cultivation is not complicated, and in addition, as with spinach, you can re-sow from the beginning of August, every 2 weeks or so. Perennial arugula, which successfully survives the winter in the ground, will also be a good choice.
How to sow.
Make a groove in the ground about 1-2m long and sow the seeds.
Cover with soil.
Water carefully so as not to move the sowing.

Chinese cabbage
Here is another vegetable that is easy to grow and practically trouble-free. We are talking about Chinese cabbage. It's ideal for making salads, such as coleslaw, or popular pickles such as kimchi. You can choose from quite a number of varieties, and you will get your first harvest in about 20 weeks.
How to achieve this?
Sow the seeds in containers or pots 2 cm deep.
About five weeks later, you can plant the young cabbage in the target spot on the bed. When preparing the site, make sure that the soil in your garden has an alkaline reaction. Then loosen it and dig in a generous amount of compost.
Plant the seedlings about 25 to 45 cm apart, depending on the variety and their size.
It's a good idea to hang a fine net over the beds. This will keep out pheasants and pigeons that love to peck at cabbage leaves.
Feed your plants every two weeks with nitrogen-rich fertilizers.
Remember about forget-me-nots
For example, forget-me-nots are meadow flowers that look beautiful in shady places between trees and shrubs. They also go well with bed flowers, such as tulips.
What to do to make them grow fast and bloom beautifully?
Fill the saucers or boxes with compost and then soil. The higher temperature of the ground will make the seeds germinate faster.
When they grow, sow the young plants in separate pots. Flowers will already appear in the next gardening season.
Non-denominations spread easily, so if you want to have more of them, just wait and let nature work.

Useful tools
A key procedure that should precede sowing or planting is the proper preparation of the beds. To begin with, remove the remains of previous crops, and then loosen the soil in the area where you intend to sow new seeds. You can do this with a hoe, but it's definitely simpler, faster, and more efficient to use a soil tiller for this. This tool will allow you to reach deeper into the soil, break up clods and mix the soil so that it becomes light and suitable for young plants.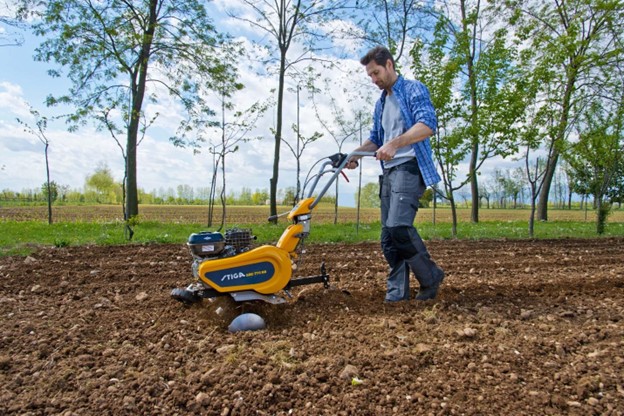 In the STIGA store, you will find models such as the SRC 775 RG, SRC 550 RG, or SRC 36 V rotovator – robust machines powered by 4-stroke engines with power ratings ranging from 1.66 kW to 3.10 kW. If you are wondering which machine will be best for your garden it is worth looking at the soil. For light soil, there is no need to buy a machine with a very powerful motor – one with a power rating of 1.66 kW will suffice. For heavy and compacted soil, it is best to bet on a machine with a motor with a higher power rating, even 3.10 kW.
The best rotovator for small beds should be light and maneuverable, such as the SRC 36 V. A larger unit can make it difficult to maneuver and consequently damage other crops or ornamental plants. On the other hand, for larger areas, devices with a larger working width are best. Cultivators are devices with which you can loosen a strip of land from 36 cm wide up to 95 cm at a time, to a depth of 20 to 26 cm. Therefore, when choosing one, always be guided by the size of your bed.
These machines are equipped with front wheels, so you will simply and quickly transport them anywhere in the garden. If you want to learn more about how to properly choose a soil tiller, be sure to read our tips.
August is the perfect time to sow seeds, vegetables, and ornamental plants. Even during drought and hot weather, the crops are sure to succeed, as long as you don't forget to properly prepare the soil and water properly.